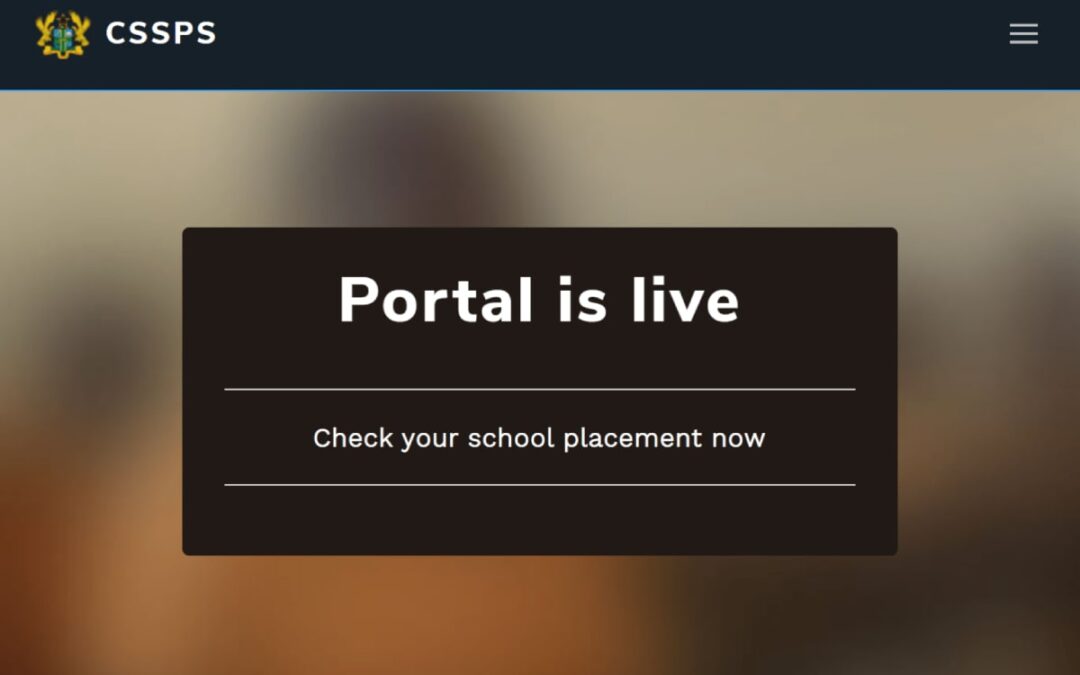 The Ghana Education Service (GES) has released the computer school placement of students who sat for 2023 BECE. School Placement 2023 is out! The Ghana Education Service has recently unveiled guidelines for self-placement following the release of the second-cycle school placements.
This initiative aims to assist students who were not automatically placed in any of their eleven choices during the Computerized School Selection and Placement (CSSPS) process.
GES releases School Placement 2023 for BECE 'SHS/SHTS/TVET' The GES has shared essential insights to ensure a seamless self-placement experience for students.
Understanding the Statistics
Out of the 598,839 results received from the West African Examinations Council (WAEC), a staggering 585,797 candidates have qualified for placement.
The GES reports a significant improvement compared to the previous year, with 81.56% of prospective students automatically securing a spot in one of their chosen schools. However, 18.44% of qualified candidates, totaling 108,025 students, still need to undertake self-placement.
Self-Placement Guidelines
To streamline the self-placement process, the GES has outlined a set of guidelines for prospective students and their parents or guardians.
Consider Your Catchment Area: Ensure that your compulsory Day option is within your catchment area, allowing for convenient commuting. This ensures accessibility and ease of travel to and from the selected school.
Verify Technical Programmes: For those interested in Technical Programmes, consult the school register to confirm that the selected schools offer the desired programmes. This step ensures that students align their preferences with the available academic offerings.
Avoid Peer Influence: Choose schools based on personal preferences and academic goals rather than succumbing to peer influence. The guidelines emphasize the importance of making choices based on individual interests and aspirations.
Hands-On Approach to Self-Placement: The guidelines explicitly caution against leaving the self-placement process in the hands of internet cafe attendants. Students are advised to actively participate in the selection process to ensure alignment with their educational objectives.
Day Student vs. Boarding Considerations: It is crucial not to assume the ability to switch from being a Day Student to a Boarding Student post-admission. Prospective students should carefully consider their preferences and choose the appropriate placement type accordingly.
Parents and guardians are urged to take a keen interest in their ward's self-placement process. Similarly, candidates are encouraged to adhere to the SHS self-placement guidelines diligently. By following these guidelines, students can make informed decisions that align with their academic and personal preferences.
How to buy school placement card
1. Visit the Checker Cards website
2. Select the number of cards you want to buy.
3. Click on the "Buy Now" button.
4. Fill in the details by adding your First name, Last name, Phone number and E-mail address.
5. Scroll down and click on "Proceed To Payment".
6. Select "Pay with Mobile Money" and enter your MoMo number.
7. Click on "Confirm".
8. Approve payment on your phone by entering your Mobile Money Pin.
How to check school placement
1. Visit the CSSPS portal
2. Click on check placement
3. Enter your Index number
4. Enter your 10 digit E-voucher pin and
5. Enter your 5-digit PIN code
6. Click on Proceed and wait a few minutes for the next window to display your school placement.
How to do self-placement
1. Visit the CSSPS portal
2. Then select the check placement module on the left-hand side
3. Enter your BECE Index Number (eg. 100000000023) and
4. Enter your 10 digit E-voucher pin and
5. Enter your 5-digit PIN code
6. Click on Proceed to be redirected to the self-placement module
When redirected successfully to the Self-placement module, you will be provided with a selection of schools to pick from based on the aggregate or grade you had in the Basic Education Certificate Examination (BECE).
7. Choose carefully your desired second-cycle school
8. Choose your residential preference (Day/Boarding).
9. Select your programme of choice
10. After doing all the necessary checks, confirm and print. Remember that once you have completed the selection process it can not be undone or changed
Conclusion
The self-placement guidelines provided by the Ghana Education Service serve as a roadmap for students navigating the CSSPS portal. With a focus on individual choice, accessibility, and informed decision-making, these guidelines aim to empower students in selecting their preferred schools and academic programs.
As the GES emphasizes, a proactive approach to self-placement ensures a smooth transition into the next phase of education for these qualified candidates.